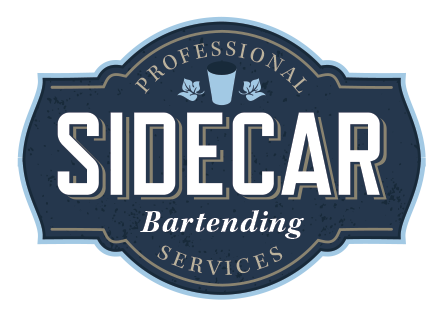 SIDECAR BARTENDING IS METRO DETROIT'S PREMIER MOBILE BARTENDING SERVICE.
Call 248-703-8865 today!
Book a Bartender
WE SPECIALIZE IN BOUTIQUE BARTENDING,
A HIGH-END, ALL-INCLUSIVE BEVERAGE CATERING SERVICE.
Whether it is an event in your home or at an offsite location, trust our team to deliver a one-of-a-kind experience, with professionalism and gracious hospitality.
SIDECAR PROFESSIONAL SERVICES
Our highly trained professional bartenders and wait staff will provide you and your guests with the highest level of service. Sidecar Bartending is fully insured and all of our bartenders are TIPS certified. We can accommodate any size party, please call for a quote!
Basic
Standard service time is 4 hours, plus 1 hour of set-up and breakdown.
Professional bartender
Bartending tools
Concierge
Event consultation / production
Customized cocktail menu
Coordination of rentals and delivery (glassware, cabaret tables, linens, etc.)
6ft portable bar/s with black linens
In partnership with ML Spirits of Birmingham, we will provide you with alcohol quantity estimation, ordering and delivery*
Event Staffing
Bartender
Waitstaff
Servers
Barbacks
*SIDECAR cannot accept payment for alcohol, payment must be made directly to vendor. If you would like us to coordinate your alcohol order, a service fee 20% of your alcohol bill will be added to your SIDECAR final invoice.
Celebrate an achievement with a Pop-up Happy Hour. Host a big client, or just bring in the weekend with your coworkers and friends.
View Pop-Up Happy Hour Details
SEASONED MIXOLOGIST AND CATERING SPECIALIST.
Kathy has over 15 years of industry experience.
KATHY SULLIVAN
Mixologist / Owner
Kathy, our mixologist has been behind the bar at some of the finest establishments across the county. Most recently she has been shaking up cocktails in her hometown of Birmingham, MI at the highly acclaimed Market North End.
MADE IN MICHIGAN BEVERAGE EXPERIENCE
We love keeping it local and are proud to serve and support products made in Michigan. Our professional mixologists use Michigan grown produce, including fresh fruits, vegetables and herbs, in many of our signature drinks. Let us know if you would like to highlight any of our states distilleries, breweries or wineries at your event.
BOOK A PRIVATE BARTENDER FOR YOUR NEXT EVENT TODAY.
Call 248-703-8865 to set up a consultation to discuss your event.
Book Our Bartending Services